EV Battery Manufacturing
Handle battery manufacturing challenges with laser technology that offers higher yields and scalability.
---
Reduce HAZ Weld the most sensitive materials with lasers that minimize part heating.
Drive Quality Lower weld porosity and spatter, and increase precision and repeatability.
Increase Throughput Cut cycle time, plus eliminate rework and postprocessing to improve productivity.
Welding Dissimilar Materials
Contacting dissimilar materials - like aluminum to copper - with excellent electrical conductivity, high mechanical strength, and precise control over penetration depth.
Copper Welding
Efficiently weld copper without process instabilities using the ARM fiber laser and achieve cost, reliability, and practical advantages over green lasers.
Weld Large Batteries
High-speed production Joining of large form factor cylindrical battery components with minimal heat affected zone, no spatter, and accurate penetration depth control.
Can/Cap Welding
High-speed, hermetically-sealed welds for prismatic cell battery can/caps, housings, contacts, and safety valves with low spatter, cracking, and porosity.
Foil Welding
Foil-to-tab welding with excellent weld penetration, minimal spatter, and reduced heat damage using single-mode ARM fiber lasers.
Busbar Welding
Weld busbars with excellent control of workpiece heating, penetration depth, and weld width, whether it's steel, copper, aluminum, or a mixture of materials.
Busbar Stripping
CO2 lasers efficiently remove polymer insulating coatings at high speed
without damaging the underlying conductor.
Enclosure Welding
Filler-free ARM laser welding of aluminum battery modules and enclosures minimizes distortion, porosity, cracks and spatter.
Electrode and Separator Cutting
Cut coated battery electrodes (anodes/cathodes) and separator materials (including ceramics) with high precision and a small heat-affected zone.
Thin Film Electrolyte Sintering for next generation of solid-state Li-ion batteries
Excimer pulsed laser deposition of thin-film electrolyte layers for lithium-ion batteries delivers dense and stoichiometric films for improved storage and charging.
Video Spotlight
A Scalable Solution for Copper Welding With Lasers - explained by our Coherent Labs Manager
Coherent Labs Manager Peter Kallage knows what matters when it comes to copper welding with IR wavelength lasers in battery production.
How Fiber Lasers Are Powering Electric Vehicle Batteries
Learn how Coherent fiber lasers deliver the best and most economical solution for the precise and demanding welding tasks of EV battery production.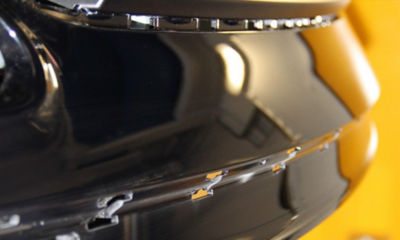 Bröking-Plastex: An automotive industry leader
At Bröking-Plastex, one thing becomes clear: the trend towards ever greater variant diversity requires specialists who can produce the smallest to large batch sizes flexibly and economically.
1 - 500
Typical batch size
Over 50%
Parts processed with the laser
Shop Coherent
Online shopping for lasers, optical fibers, power meters and sensors, accessories, and much more on Coherent online has never been easier.